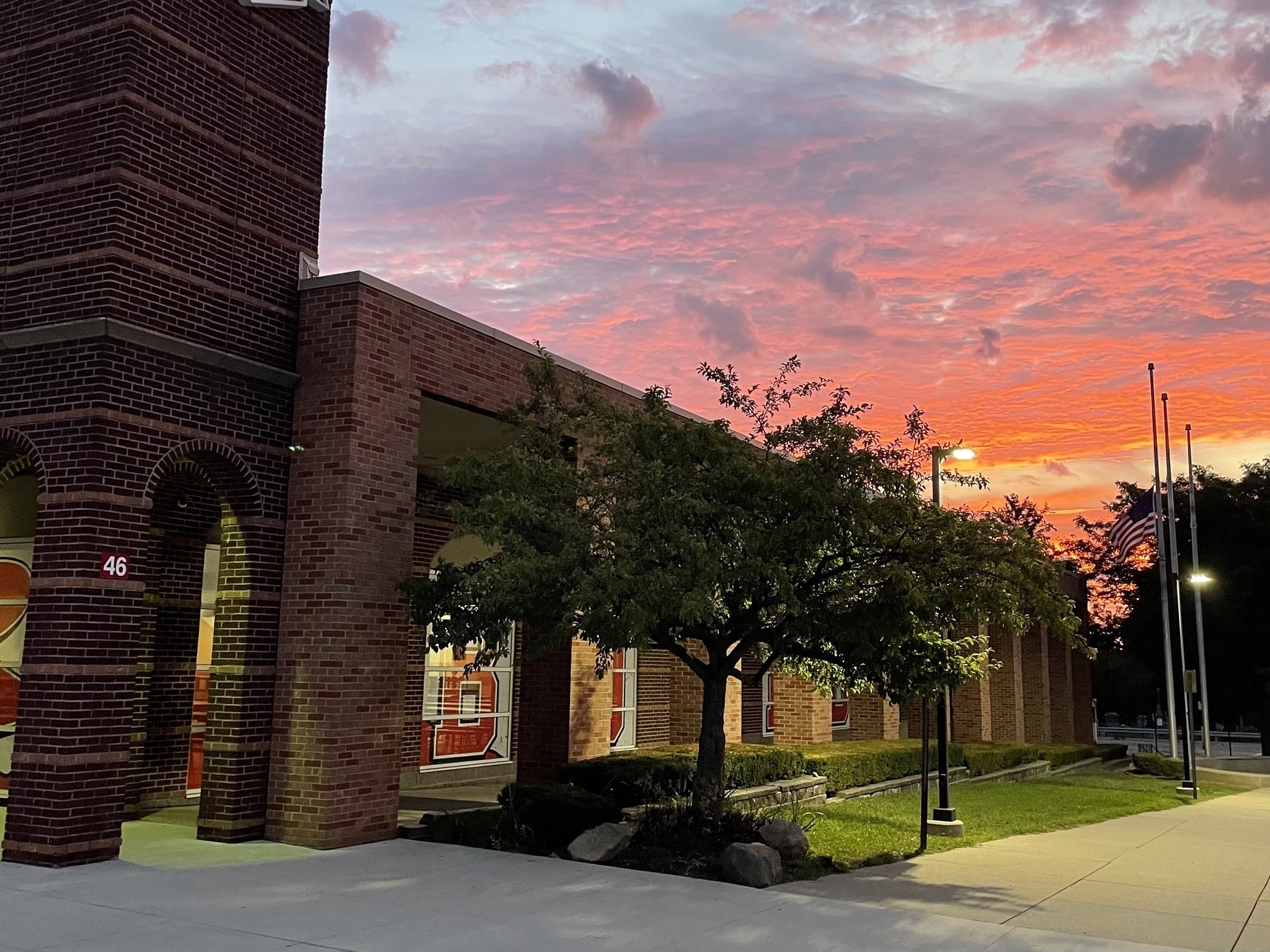 ROMEO MIDDLE SCHOOL
Welcome to Romeo Middle Schools, home to our 6th through 8th grade students for Romeo Community Schools. With a student population around 1,200, we strive to create an atmosphere where we help all our students grow to their fullest potential. With our teaming approach, we have created smaller communities within each grade level. RMS offers a variety of opportunities to engage students and the variety of interests they have. These opportunities include our extra curricular offerings as well as the courses we provide during the school day.
Our school culture focuses on three school-wide expectations – We "R" Accepting, We "R" Responsible, and We "R" Engaged. Emphasis on these expectations help shape what it means to be a bulldog here at RMS and provides a "WE R ONE" mentality. Our staff is here to meet the needs of our students – both academically and socially.
At Romeo Middle School, we believe in providing a safe and caring environment in which we embrace challenges, encourage growth, and empower everyone to make a difference.
__________________________________________
Upcoming Events
Upcoming Events

Previous

September

2023

Next

S
M
T
W
T
F
S
1

Sep 1

Calendar:

Romeo Middle School Calendar of Events

2
3
4

Sep 4

Calendar:

Romeo Middle School Calendar of Events

5
6
7
8
9

Sep 9

RMS Cross Country - Algonac Run

Location:

Algonac JR/SR High School, 5200 Taft Rd, Algonac, MI 48001, USA

Calendar:

Romeo Middle School Calendar of Events

10
11

Sep 11

5:00 PM to 8:00 PM

Calendar:

Romeo Middle School Calendar of Events

12
13

Sep 13

9:00 AM to 10:00 AM

Calendar:

Romeo Middle School Calendar of Events

14
15

Sep 15

Calendar:

Romeo Middle School Calendar of Events

16

Sep 16

RMS Cross Country - Old Skool Classic

Location:

Wolcott Mill Metropark Historic Center, 63841 Wolcott Rd, Romeo, MI 48065, USA

Calendar:

Romeo Middle School Calendar of Events

17
18
19

Sep 19

3:30 PM to 5:30 PM

RMS Football away @ Malow JH

Location:

William E Malow Junior High School, 6400 25 Mile Rd, Shelby Twp, MI 48316, USA

Calendar:

Romeo Middle School Calendar of Events

20
21
22

Sep 22

6:30 PM to 8:30 PM

RMS Cross Country- Cleverley Invite

Location:

Anchor Bay High School, 6319 County Line Rd, Fair Haven, MI 48023, USA

Calendar:

Romeo Middle School Calendar of Events

23
24
25

Sep 25

Change War Competition (Leadership)

Calendar:

Romeo Middle School Calendar of Events

3:30 PM to 5:30 PM

RMS Volleyball (Red) @ L'anse Creuse East

Location:

L'Anse Creuse Middle School East, 30300 Hickey Rd, New Baltimore, MI 48051, USA

Calendar:

Romeo Middle School Calendar of Events

3:30 PM to 5:30 PM

RMS Volleyball (White) @ L'anse Creuse South

Location:

L'Anse Creuse Middle School South, 34641 Jefferson Ave, Harrison Twp, MI 48045, USA

Calendar:

Romeo Middle School Calendar of Events

26

Sep 26

Change War Competition (Leadership)

Calendar:

Romeo Middle School Calendar of Events

27

Sep 27

Change War Competition (Leadership)

Calendar:

Romeo Middle School Calendar of Events

28

Sep 28

Change War Competition (Leadership)

Calendar:

Romeo Middle School Calendar of Events

3:30 PM to 5:30 PM

RMS Volleyball (Red) @ Wyandot

Location:

Wyandot Middle School, 39490 Garfield Rd, Clinton Twp, MI 48038, USA

Calendar:

Romeo Middle School Calendar of Events

3:30 PM to 5:30 PM

RMS Volleyball (White) home vs. L'anse Creuse Central

Location:

Romeo Middle School, 11091 32 Mile Rd, Romeo, MI 48065, USA

Calendar:

Romeo Middle School Calendar of Events

29

Sep 29

Change War Competition (Leadership)

Calendar:

Romeo Middle School Calendar of Events

30

Sep 30

RMS Cross Country - Hanson Invite

Location:

Freedom Hill County Park, 14900 Metro Pkwy, Sterling Heights, MI 48312, USA

Calendar:

Romeo Middle School Calendar of Events

RMS Cross Country - Old Skool Classic

Location:

Wolcott Mill Metropark Historic Center, 63841 Wolcott Rd, Romeo, MI 48065, USA

Calendar:

Romeo Middle School Calendar of Events

RMS Football away @ Malow JH

Location:

William E Malow Junior High School, 6400 25 Mile Rd, Shelby Twp, MI 48316, USA

Calendar:

Romeo Middle School Calendar of Events

RMS Cross Country- Cleverley Invite

Location:

Anchor Bay High School, 6319 County Line Rd, Fair Haven, MI 48023, USA

Calendar:

Romeo Middle School Calendar of Events

RMS Volleyball (Red) @ L'anse Creuse East

Location:

L'Anse Creuse Middle School East, 30300 Hickey Rd, New Baltimore, MI 48051, USA

Calendar:

Romeo Middle School Calendar of Events

RMS Volleyball (White) @ L'anse Creuse South

Location:

L'Anse Creuse Middle School South, 34641 Jefferson Ave, Harrison Twp, MI 48045, USA

Calendar:

Romeo Middle School Calendar of Events

Change War Competition (Leadership)

Calendar:

Romeo Middle School Calendar of Events
Contact Us
Steve Ameel
Assistant Principal
Troy Bartlett
Assistant Principal
Christina Wilk Bazner
Counselor 6th Grade
Shelley Bjorkstrand
Counselor 7th Grade
Cara Skover
Counselor 8th Grade