Welcome to the Early Childhood Services Department
Choosing a high-quality early childhood education program is one of the most important decisions parents or guardians can make for their young children. As you consider your decision, we encourage you to choose one of our RCS Early Childhood Programs. Our learning environment provides opportunities for preschool-age children through 12 years of age to discover, investigate, grow and begin the journey of lifelong learning. Our extensive Early Childhood programs include tuition-based programs for Preschool, Discovery Preschool/Child Care, and School-Age Care (SACC). We also offer free preschool for families that meet eligibility requirements through the Great Start Readiness Program (GSRP).
Summer Camp 2022 5/11/2022 All program classes are full. Waitlists are available. Call 586.752.0314
2022-2023 SACC Registration Forms. Fall Registration begins May 23rd. Please contact (586) 752-0314 for more information. Thank you.
Please email all registration forms to Jill Cucchiara, the Account Clerk, at jill.cucchiara@romeok12.org or Jeanine Beck, Early Childhood Director, at jeanine.beck@romeok12.org.
Discovery Preschool is Toddlers, Preschool Prep, Discovery 3 & Discovery 4. Registration is May 23rd for the 2022-2023 school year. Please call (586) 752-0314 with any questions.
2022- 2023 Discovery Programs Registration Forms
Completely fill out each PDF form below.
Provide a copy of your child's birth certificate and immunization record when registering. Email all forms to Jill Cucchiara at Jill.cucchiara@romeok12.org or bring them to Croswell between the hours of 7:30 am and 4:00 pm, Monday through Friday.
Croswell After Care is available to students currently enrolled in GSRP, Head Start, and ECSE PM programs. It is available Monday through Friday from 3pm until 5:30pm.
All students enrolled must be fully potty trained and 4 years old by September 1st, 2022.
*Care is not available on half days or when school is not is session.
Please fill out all forms below and email them to Jill Cucchiara, Account Clerk, jill.cucchiara@romeok12.org or Jeanine Beck, Early Childhood Director, jeanine.beck@romeok12.org.

After Care Registration Forms

Child Information Card

Covid-19 Response Plan
Great Start Readiness Program Free Preschool (GSRP)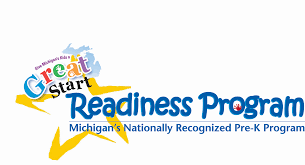 2022-2023 Tuition Based Preschool Registration Forms Registration begins Feb. 14th, 2022 at Croswell Children Center from 7:30a-12pm & 1-4pm in the office. Bring in completed forms.
2022-2023 Preschool Registration
All of the following forms must be printed and completed.
Hevel 4-Year-old Preschool for Fall 22-23 is currently full. There is a waitlist started for this program. There are 2 other 4-year-old preschool programs located at Washington Elementary and Croswell. Please call the office for more info.
A birth certificate is needed
An immunization record is needed
The last page of the Parent Handbook is needed
$50 non-refundable registration fee
$200 1st installment (non-refundable)
3 by Sept 1st to enroll Preschool 3's
4 by Sept 1st to enroll in Preschool 4's
The child must be completely toilet trained
Spaces are limited.
Parent Information/Resources
Useful Websites:
- "There Will Be Tears, A Guide to Infant Crying"
- "Don't Shake Us, You Might Break Us" Brochure
- "Soothing a Crying Baby
Croswell Early Childhood Center
Hevel Elementary
Washington Elementary
Transitioning To Kindergarten
If you are in need of assistance for either Childcare or S.A.C.C. tuition please click on the link below to access the Michigan Department of Health and Human Services.
Contact Us:
Early Childhood Services Office
Croswell Early Childhood Center
175 Croswell St.
Romeo, MI 48065
(586)752-0314
Fax: (586)336-6823
Jill Cucchiara