High school education across the country is changing, and Romeo is leading the way. Romeo Community Schools has taken up the national challenge; moving to provide all students with more of the advanced skills they need to be successful, productive citizens in college, career, and life. We call it the Academies at Romeo. Academies allow students to choose a thematic course of study, such as engineering, healthcare, or information technology, and learn in a relevant, hands-on environment with real-world application. Our students learn math, science, English and social studies in the context of their academy theme.
Research on high wage, high demand job opportunities in Southeast Michigan, along with input from students, teachers, parents and the community, was utilized to determine the academies & pathways offered at our schools.
All academies offer:
Small learning communities
Learning through a career lens
Business and community engagement
The Academies at Romeo Include (more information below):
9th Grade Academy
Academy of Business, Entrepreneurship & Innovation
Academy of Health, Human & Public Service
Academy of Design, Engineering & Manufacturing
Recognized Benefits of Academies:
Increased graduation rates
Increased participation in advanced courses
Increased achievement scores
Decreased discipline referrals
Prepared for college, career & life
Academy Structure
The image below shows the structure of the Academies at Romeo.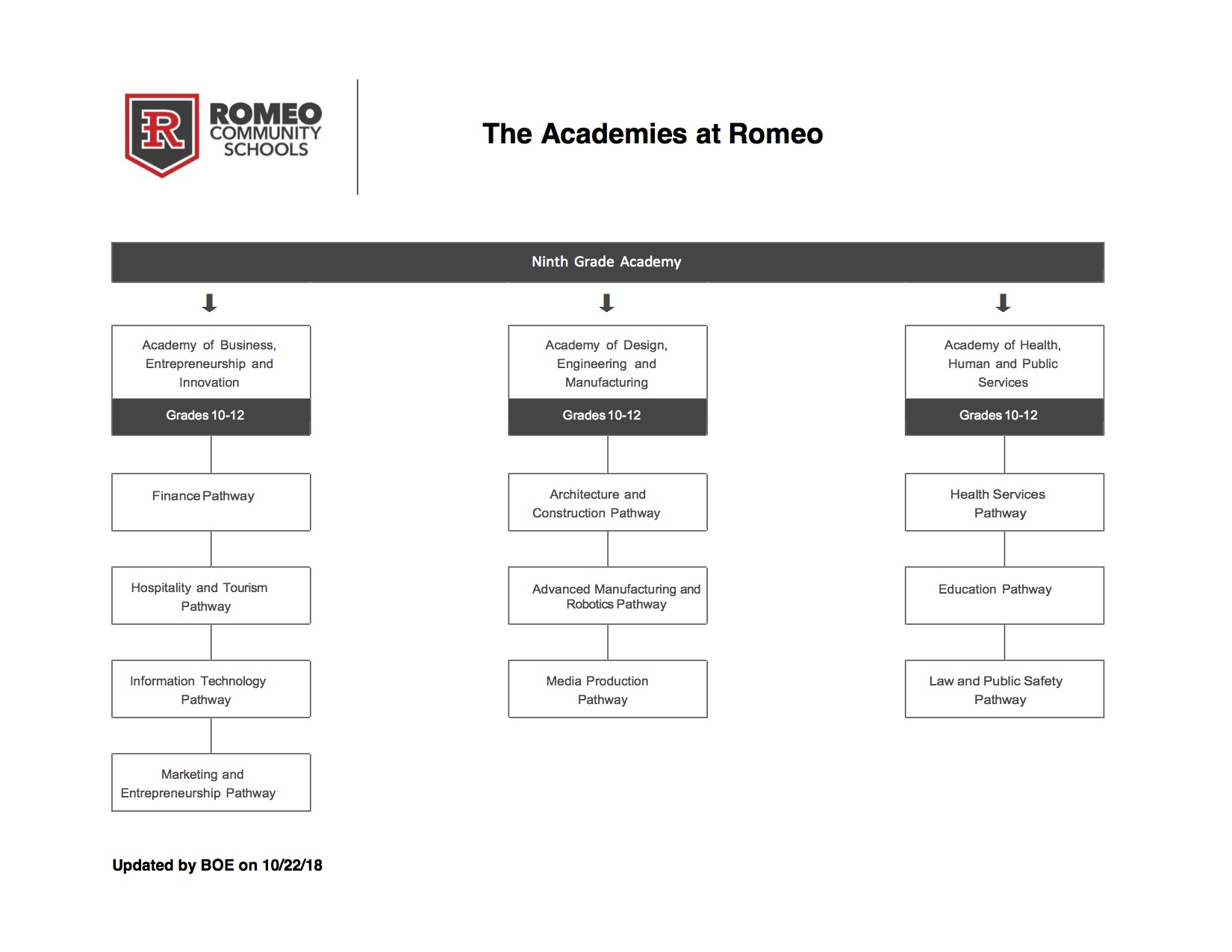 9th Grade Academy
All 9th grade students will be a part of the 9th Grade Academy (similar to the 9th Grade Academy Romeo had years ago and many successful high schools in the state). The main purpose of the 9th Grade Academy is to support students in a smaller learning environment to help them succeed in high school. This includes, but is not limited to, regular and personalized check-ins and interventions; building relationships with students; and teaching and reinforcing study skills, study habits, test taking strategies, and organizational skills. Students will also be exposed to various career paths and colleges in an effort to help them stay focused on the overarching goal of college and career readiness.
Career Academies
Upon entering 10th grade, students will be a part of one of three career academies; Academy of Business, Entrepreneurship, and Innovation; Academy of Design, Engineering, and Manufacturing; and Academy of Health, Human, and Public Services. Students will also focus on one of three/four pathways within each academy that best fits his/her interests. It is important to state that we do not expect a 15 year old student to choose his/her career path. However, by learning traditional subject matter (English, math, science, social studies, etc.) in the context of an actual real world career will provide a richer, more engaging, and more applicable learning environment; exactly what students have been saying they want and need for years (and also answering the questions of "When will I ever need this?" and "Why am I learning this?").
FAQs
WHAT LED US TO DO THIS AND WHO WAS INVOLVED?
Our community helped us choose this model. We started a high school visioning process to explore the best way to prepare students for their future. A team was formed consisting of Board of Education members, administrators, teachers, parents, community and business leaders, higher education representatives and, of course, students. We then partnered with Ford Next Generation Learning. Ford NGL mobilizes educators, employers, and community leaders to prepare a new generation of young people who will graduate from high school ready for college, careers, and life.
WHY DO WE NEED TO CHANGE? WHY FIX SOMETHING THAT'S NOT BROKEN?
High school should prepare students for their future and not our past. We know the new economy requires vastly different skills than it did 30, 20, 10 and even five years ago. This model will put all students in control of their future and prepare them to succeed in whatever their next step in life is after high school. Our students were quite clear in telling us they wanted more personalized relevance in their learning.
DO COLLEGES LIKE THE ACADEMY MODEL?
Colleges and universities like this model. We have been in contact with multiple colleges and they are on board and ready to partner with us. One reason is the transferable skills all students will gain no matter what academy they choose. The skills gained in any academy will prepare students for college in any area.
WHAT IF A STUDENT DOESN'T WANT TO GO TO COLLEGE? WILL THIS BE TOO COLLEGE PREP?
The graduate profile that has been developed provides all students college and career opportunities. Providing all students experiences will best prepare them to make a wise decision for themselves after high school.
HOW CAN WE EXPECT A 14 YEAR OLD TO DECIDE WHAT THEY WANT TO DO FOR THE REST OF THEIR LIVES?
We are not asking students to decide what they want to do for the rest of their lives in this model. However, we are preparing kids with the knowledge and skills they will need to thrive for the rest of their lives. The pathways and academies are less about a life-long career and more about what students are interested in right now, making learning more relevant and fun.
WHO'S PAYING FOR THIS?
We are excited that the transition is a possibility. Initial funding will happen through the shifting of current dollars. With full Board of Education support and the guidance of the strategic master plan we are confident we can make necessary changes in the budget to accommodate the initial tasks.
WHAT IF A STUDENT IS INTERESTED IN A CAREER THAT'S NOT ONE OF THE CHOICES?
Part of the benefit of this model is personalized academics for our students. If a career idea or student interest is not directly aligned with our pathways, we will work with the student to personalize a related pathway to meet that student's needs, through electives, online learning or work-based learning opportunities. Our goal is to help 100% of our students to find high school to be relevant to their individual passions.
WHAT ROLE DOES BUSINESS PLAY?
There are many opportunities for business to be engaged with us. Business partners can lend their time, talent and expertise to our students and teachers by giving input on curriculum, hosting teacher externships, being guest speakers, hosting student field trips, and hosting job shadowing opportunities to name a few.
Business Involvement
A necessary component to the success of The Academies at Romeo is the partnership and engagement of business, post secondary institutions, and the community. The Academies partner with many businesses across Macomb County to offer relevant, engaging and real-world applications for our students. To find out more about partner expectations, or to potentially partner, please click on the form below.

Fueling the Talent Pipeline
By filling out the Macomb County Economic Development Form a business is showing their willingness to support our schools in some capacity. This is a measure designed to ensure a potential partnership option and compile data used to support our programs. Any interested business has the choice to solely support The Academies at Romeo. For more information feel free to call or email:
Rich Boggio
Academy Coach
Romeo High School
586-281-1172
Rich.Boggio@Romeok12.org