RHS Bulldog Days Information
It is once again time for Bulldog Days, our annual student orientation and registration program. The following information will help you prepare for the upcoming day and help ensure you child(ren) are ready to start the year.
Dates: Freshmen and Seniors: Tuesday, August 21, 2018
Sophomores and Juniors: Wednesday, August 22, 2018
Times: Last year, we tried not using this staggered arrival time which resulted in long lines (we don't want that to happen again). If possible, please arrive at the time indicated below (organized by last name).
A-C: 8:30 AM
D-G: 9:30 AM
H-L: 10:30 AM
M-R: 1:00 PM
S-Z : 2:00 PM
Location: Romeo High School. Please enter through the front doors near the cafeteria.
---
Before attending Bulldog Days we ask that you have completed the following:
Returning RCS Families

Complete the Online Information Update via Registration Gateway. You should have received instructions, along with your child's username and password, via USPS mail. This update must be done with each child.
If you have moved, but still reside in the district boundaries, please contact Kim Ozella in the RCS Enrollment Center, at 586-281-1412 or kimberly.ozella@romeok12.org, to update your address. You will need to provide two items:

Driver's license
Proof of residency: utility bill (DTE, Semco, or water bill), or mortgage statement, or lease statement

New RCS Families

Visit our online enrollment page and follow the steps to register your child. If you have questions regarding this process, please contact Kim Ozella in the RCS Enrollment Center, at 586-281-1412 or kimberly.ozella@romeok12.org.
---
During Bulldog Days, you may also purchase or pay for the following (see next drop down for printable forms):
Yearly Athletic Pass
Graduation Fee
2018-2019 Yearbook
2018 Watchdog T-Shirt
School Picture Packages
RHS Bulldog Days Files/Downloads
The following files are available for download, or will be available during Bulldog Days:
Student Parking
2018-2019 Student Parking
As many of you know, last year students were no longer able to drive between RHS and RETC during the school day due to the construction and lack of parking at RETC. While construction is advancing as planned, and the majority of the parking lot will be complete and open by the start of the school year, the area in front of RETC will still be a construction zone (see map).
This means there is no safe pathway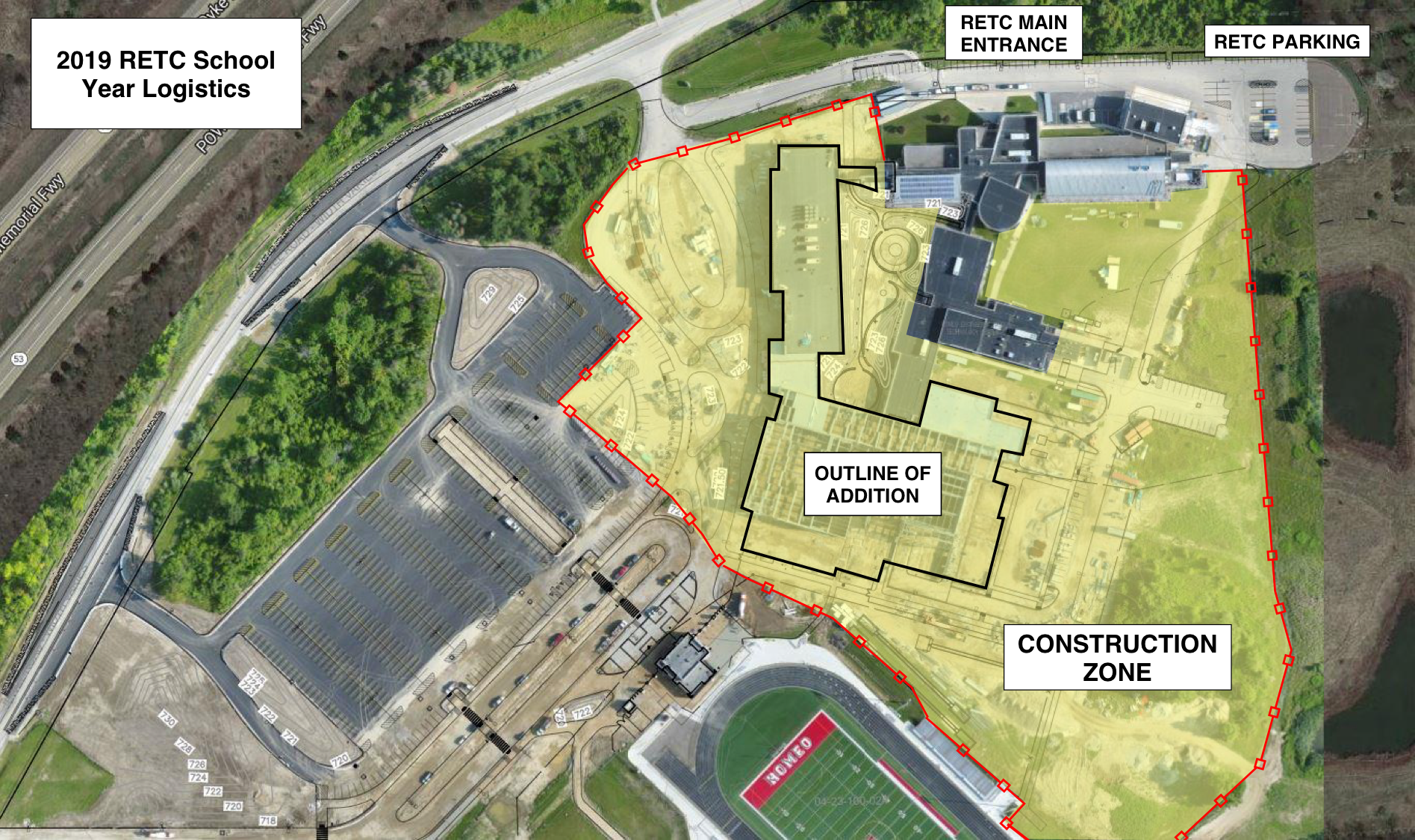 between the RETC/Powell parking lot and the RETC north (temporary) entrance. Therefore, student parking will be the same as last year; RETC parking passes will be for all day RETC students only. All other students attending RETC part of the day must park at RHS and take the district provided bussing. This includes students parking at St. Paul's Church. This transportation will be provided multiple times throughout the day to service various student schedules. There are a few extenuating circumstances last year in which students were allowed to drive between RHS and RETC; early college, dual enrollment, and work study/release. If your schedule includes one of these circumstances, and will not allow for you to arrive at your college class or work study assignment on time, please fill out the

RHS/RETC Student Transportation Request Form and turn it into the RHS main office. An administrator will review your request and follow up with you. Students approved will only be allowed to drive him/herself between RHS and RETC.
Additionally, we feel it is fair to remind students that RHS will continue to be vigilant when monitoring the parking lots to ensure students are able to park in the lot they have purchased passes for. Our new police liaison officer will be helping to assist in building security, including our parking lot. All rules, regulations, and punitive sanctions outlined in the

RHS/RETC Parking Agreement and Application will be followed and adhered to. Any car parked on our campus, outside of guest spaces/lots, without a parking pass will be considered a suspicious vehicle and potentially subject to being searched. It is also important to note that the past precedent of granting priority to students involved in various extra-curricular activities will no longer be done. The information outlined below explains how parking spots/lots will be assigned.
---
Student Parking Application Process
Any Senior or Junior interested in a parking pass must complete the following during Bulldog Days (8/21 & 8/22) or in the main RHS office (8/23 or after)
Read, fill out, and turn in the RHS/RETC Parking Permit Application
Pay the fee associated with the parking lot
No parking permits will be granted to students with outstanding obligations owed
---
Student Parking Lots
RETC Parking

Cost is $50
Only "all day RETC" Seniors and Juniors will be issued a RETC parking pass
Seniors will not be able to paint these spots
Any student driver who attends RETC for half of the day will be required to park in one of the RHS lots and use the district provided bussing to travel to and from RETC. **See additionally information at bottom of this page

RHS Parking

RHS Main Lot (north side of building)

Cost is $50
Seniors will have priority on this lot if parking permit application and $50 is turned in on, or before, Wednesday, August 22. Seniors who are not able to attend Bulldog Days may email Ms. Losiewicz (lisa.losiewicz@romeok12.org) from his/her student email account on, or before, Wednesday, August 22 to let RHS know s/he is interested in a parking spot and when the student will be able to complete the application process. Please type "Senior Parking" in the subject line of the email. If interested in painting a spot, please indicate in the email
Additional available spots will be available to Juniors via lottery (more information below)
Seniors with a parking pass will be able to paint their parking spot (more information below)

Youth Center (Parks and Rec) Lot

Cost is $40
Available only to Juniors via lottery

Memorial Field Lot

Cost is $20
Available to Seniors and Juniors

St. Paul's Church Parking Lot

This lot is managed by the church. If interested, please call 586-752-3212
---
Junior Parking Lottery
Since Juniors will have multiple parking lots available, a "random-draw" lottery will determine which students can park in the RHS North Lot and Community Center Lots:
All Junior permits will be initially issued for the Memorial Field lot
Juniors interested in parking in the RHS Main Lot or the Youth Center Lot must:

Apply, and pay ($20), for the Memorial Field Lot on, or before, Wednesday, August 22 (Bulldog Days)
Fill out the "Junior Parking Lottery" sheet, including contact number, when applying
The Junior Parking Lottery will be held at noon on Thursday, August 23, in the RHS North Parking Lot. Students may attend, but are not required to do so

Available RHS North Lot spots will be drawn first
Available Community Center Lot spots will be drawn next
Students drawn for the RHS North Lot or Community Center Lot will:

Be contacted and informed
Then need to visit the RHS main office to pay the difference in cost for the upgraded lot and receive his/her new parking pass (can be done at the Parking Lottery if present)

Students not drawn for the RHS North Lot or Community Center Lot will not be notified and will keep their Memorial Field Lot permits
---
Senior Parking Spot Painting
Painting of parking spots will only be allowed in the RHS Main (North) Lot. Seniors interested in painting his/her parking spot must have successfully completed the parking application process (or properly notified Ms. Losiewicz) on, or before, August 22 and received his/her student ID from Bulldog Days.
Senior parking spot painting will start at 7:00 a.m. on Thursday, August 23. Seniors may line up ahead of time (cones will be put out the night before)
Seniors not able to attend on August 23 may email Ms. Losiewicz (lisa.losiewicz@romeok12.org) from his/her student email account on, or before, Wednesday, August 22 to let her know their interest (see information above)
Spots will be assigned in a "first come, first served" basis
To receive a spot, Seniors must have their parking permit AND valid student ID
Once a spot is assigned, Seniors may paint at their leisure (not required to do so that day)
---
**We realize that not everyone will be happy with the parking changes. We apologize for any inconvenience and appreciate the understanding of our students and parents. Additionally, we realize that upper classmen will not be thrilled with having to ride the bus to and from RETC each day and may want to change their schedule to avoid this. Unfortunately, we will not be able to accommodate these requests; we must place a priority on obtaining the smallest class sizes possible, meeting as many student needs as we can, and ensuring fiscal responsibility.